Vibeline vs. YummyVibe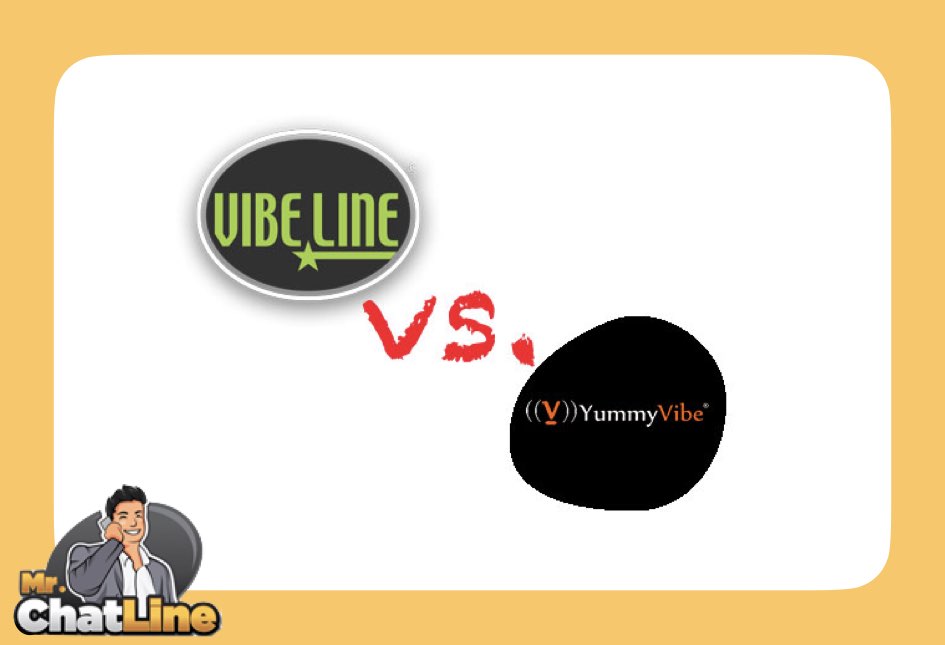 Black chat lines, or urban dating lines, are a popular offshoot of the modern chat line. They are a place where members of the Black community come together. All races are welcome, but these lines are designed specifically for Black people. Today, it might seem a little weird to separate chat lines by race, but that's not really what this is. It's an open line for Black people to find each other and foster a sense of community. These chat lines connect people who live nearby each other so that they can meet in person. Also, these lines aren't exclusive nor do they ask what race you are when you call. There are people of all races who call in because they want to get to know someone from the Black community. In general these lines are really fun and typically get a lot of users calling in on regular basis.
Two of the top black chat lines that lots of people love is Vibeline and YummyVibe. It's hard to judge which number you should call without having experience with either line. Their websites and vibes are really similar, but these are two lines with some important differences. The last thing you want to do is find out you've wasted time or money on a chat line. Debating between these two lines?
So keep a'scrolling to find out where Mr. Chat Line comes down in this hotly contested debate!
What's Vibeline Like?
Vibeline is a very well-established and reputable black chat line. It has been around for over 25 years, which means the company has had plenty of time to work out the kinks and misgivings the ling may have had when it first started. It's been around a really long time (in comparison to other lines) which means that it has a very large caller base. It's probably the most popular Black chat line out there, just because so many phone daters know about it. It has actually evolved to the point where people can create a online account with Vibeline and use the unique web features. But people still mainly use Vibeline for chat line dating. Vibeline's popularity means that diverse relationships can be formed from using it. It promotes all types and a huge variety is actually available through the line. It does lean towards the flirty-casual-relationship vibe rather than very sexual or very lovey-dovey. It hits pretty hard in the middle between those two. Pricing is slightly expensive but reasonable. A half-hour costs someone about 10 bucks, but you can use a 30-minute free trial if you are a new caller.
What's YummyVibe Like?
YummyVibe also offers a 30-minute free trial, but it is on the cheaper side. It costs around $10 for 60 minutes, which is double the time that Vibeline offers. YummyVibe has a really out-of-date looking logo, but don't let that fool you. People love YummyVibe because it's known for being ultra user-friendly. They are one of the largest chat companies now, which says a lot, and are based out of Nevada. They haven't been around forever, but they've been in the social chat game long enough to have their system totally worked out. They've invested a lot of time and money into perfecting YummyVibe. YummyVibe, perhaps due to their sexy name, has a lot of callers looking for naughty or erotic chat. There are some that want to find someone to date in the long term, but the phone platform is certainly sexually driven.
What Are The Main Differences?
YummyVibe and Vibeline are both great lines and do share a lot of similarities. They are both black chat lines with a lot of users. Their peak hours are pretty much the same, getting a higher volume of callers later on into the evening rather than during daylight. Vibeline has a larger caller-base, statistically speaking, but it won't make a difference to your experience because YummyVibe has more than enough women calling the line to feed your desires. You won't ever find yourself lingering on either line waiting for someone to connect with. Both also offer equal 30-minute free trials, which is nice if you want to try them out for yourself. But once that trial is up, YummyVibe is the cheaper line.
Verdict
Because Vibeline is to reputable, the callers are a bit better and more high quality. In other words, there are less flakes on that platform than there are on YummyVibe. Those in need of phone sex should call YummyVibe. If you aren't sure or want to meet someone who is serious about finding a real relationship, call Vibeline.