BEST LESBIAN PHONE CHAT LINES 2022
Looking to Chat With A Lesbian Over the Phone?
Women are complex and complicated creatures, and lesbians are no exception to that rule. However, the phone chat lines designed specifically for women to meet other ladies could not be more simple. If you are a gay woman and finding it difficult to find ladies to connect with in your area, or if you are simply seeking a stronger female community that extends beyond your local lesbian bar, then you need to step into the world of phone chat immediately.
Chat lines are phone dating services in which people call in and they are matched together based on their attraction to someone's voice. Rather than swiping left or right through photoshopped images of women, you get to listen to greetings. A chat line greeting is basically a dating profile in short voice form. You will be prompted to record one for yourself almost immediately upon calling the chat line. You'll want to record an introduction of yourself along with some of your interests and what you are seeking when calling this line. Are you looking for friendship? True love? Someone to get hitched with? No matter what it is you need out of your chat line experience, the line with undoubtedly provide.
Because women are naturally such great conversationalists, the phone chat world for lesbians is a breeze. It's casual, relaxed, and completely fun. Women on the lines are direct and to the point. In other words, there are no games. If your match wants to meet you in person, she will say so! It's like speed dating but you can do it in your slippers and nightie while sipping on some red wine… or morning coffee! These lines operate 24/7 so you can pretty much call at a time that suits you. We do recommend calling later at night if you are looking for either phone sex or naughty chat as that is when the more erotically charged callers tend to flock to the chat lines.
1.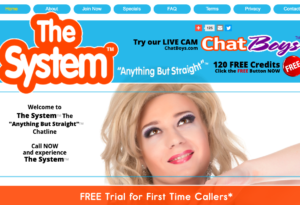 1-509-876-5000
The System was built for the LGBT community, including lesbians! You can find a taste of whatever you are into here, so don't miss out! This is the MOST open-minded phone chat line in the game and lesbians are known to flock. Try it for free for 60-minutes. If you feel like there are too many options in terms of sexuality, you won't lose anything.
1-509-876-5000