RedHot Dateline vs. Taboo Chat: Which Is Naughtier?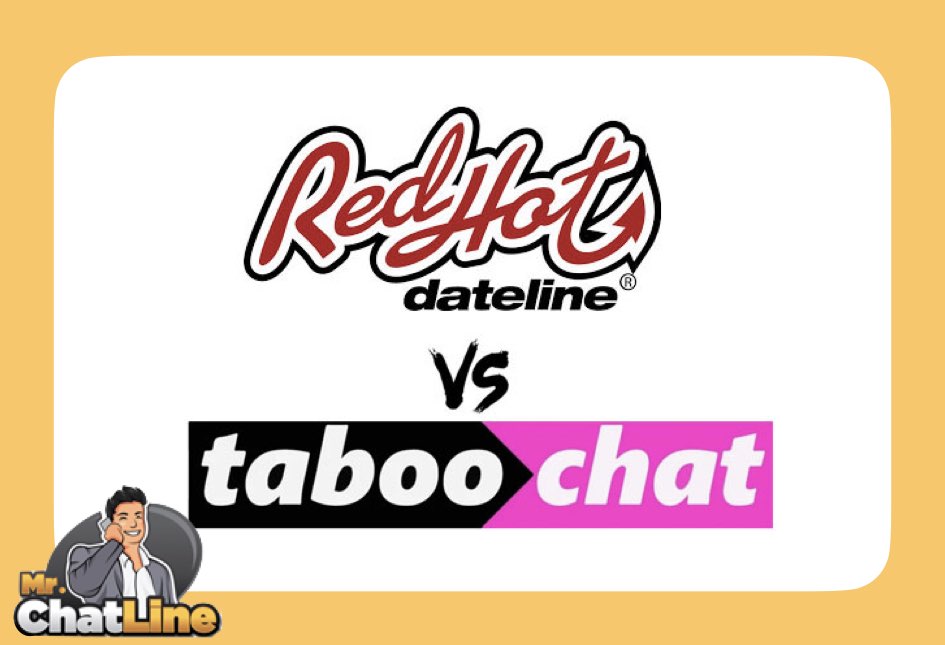 Naughty phone chat is one of those things that seems like it has been forever. And, while it has been on the books for a while now, it's definitely a cool modern twist on dating and hooking up. When you think of the words 'erotic chat' you might picture a guy with his hands down his pants on a landline. In many scenarios, you wouldn't be wrong. These lines are about having phone sex all night long, that's what they are there for. However, you have to be careful to remember that an erotic chat line is not synonymous with a phone sex line. We've seen it in movies and have likely called phone sex lines ourselves in the past. We know what they are about. You can picture the room full of raunchy cubicles where scantily clad ladies speak to customers in hushed sexy voices. Ok, that's a little outdated. Maybe these days they are in their own bedrooms using a cell phone and pleasuring themselves with a vibrator while they chat to needy customers. Here's the thing though that we must remember about phone sex: It's a job. What makes naughty chat lines so special is that the ladies you are talking to are genuinely horny. The intrinsic motivation to have a sexy phone conversation isn't bogged down by the hunger to make a buck. And, as an added bonus or delicious icing on this phone chat cake – these women want to meet up with you! So, it begs the question: Which naughty phone chat line is best?
For the purposes of this article, I've picked two great lines to compare because when it comes to chat lines, each one is different and will suit different needs. These two are very different and we'll get into why in a minute. First, let's get into what makes them both great. Here are two pretty well-known lines in the chat world, two that get a lot of callers, and two that are known for getting people off. What could be better?
The Major Difference
The biggest difference between RedHot Dateline and Taboo Chat is sort of in the name. One is an actual dateline and one is a chat line. Here's why that's an important distinction: The date line is more conducive to meetups whereas taboo chat is about chatting. RedHot Dateline is pretty much your average naughty line. Horny locals call in and match with one another. It's a really popular line which is what makes it so much fun. It's like speed phone sex dating. There are so many folks who live right around the corner who want to bump their uglies with yours, or at least talk about doing it with the possibility of meeting up. Taboo chat is a little bit different. Of course it's a phone line, but there's a lot of information worth talking about on their website that informs what they are all about. When you head to the Taboo Chat website, you can see that they aren't just your average chat line but instead that they have categories to choose from in which to chat about. Here are some of the categories listed:
Foot Fetish

Lingerie

Lipstick Lesbians

Sexy Librarian

Country Girls

Blindfold Fantasy
This is literally just a small handful of the categories that you can choose from. Again, the name really says it all: Taboo Chat. It's chatting about things that mainstream society deems a bit too wild for normal conversation,and that's what makes it extra fun. It's definitely closer to a phone sex line or an erotic chat line than RedHot is.
At the end of the day, you really need to ask yourself what you are looking for when you call an erotic chat line. Are you in your house all alone looking to take a deep dive into some raunchy talking with a stranger, or do you want to talk nasty with someone who you might potentially meet up with. Another way to ask the question is… Do you want a call about booty or are you looking to make a legit booty call? The chatters on RedHot are going to fulfill the latter more likely than the TabooChat ladies. Taboo ladies are more there for brief, instant fun that actually heats up more quickly than RedHot if I'm being honest. It also tends to hit subject matter that is extremely kinky, even for those who are used to the phone sex game. It's really up to you, what you are into, and how raunchy you want to get. My honest opinion is to go with RedHot Dateline. First of all, there are way more callers. Second, there's no law against getting absolutely filthy on the phone, if that's what you are into. However, unlike Taboo Chat, it's not an unspoken requirement. You can get to know someone on a genuine level if you'd like and it leaves the door open for a potential real-life sexy date.