The System Vs. Woman Radio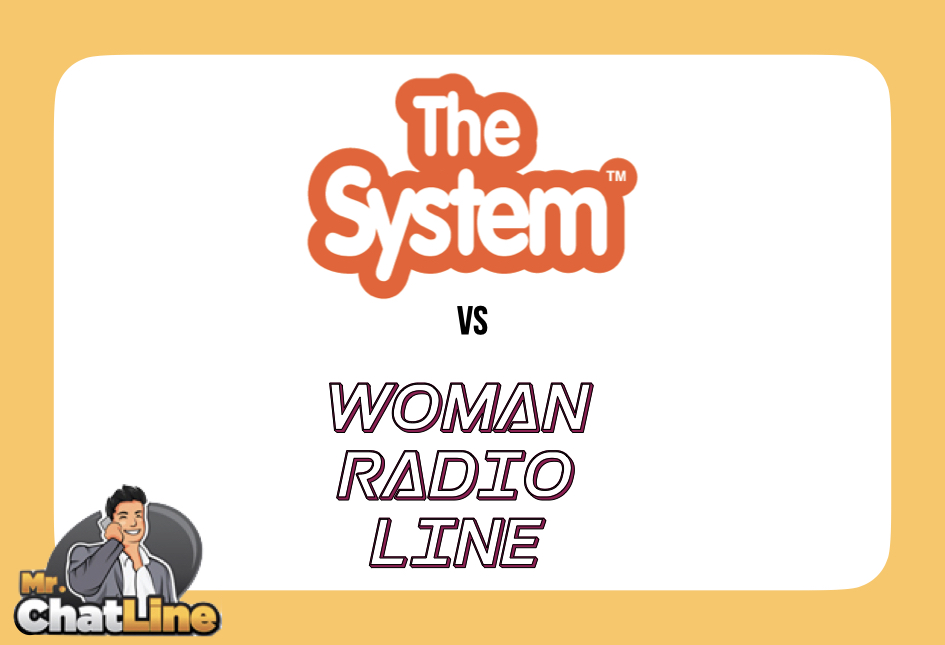 Today, we have decided to compare two lesbian chat lines for all of you women who love women out there. If you are a woman and are a part of the LGBTQIA+ community, (namely, the L that falls within the ever-growing list of letters on that list,) you understand the struggle of trying to find another woman out there for you to date, never mind hook up with! Why do you think the U-haul stereotype is oh-so-true? You find someone – anyone – who identifies as a lesbian and you are ready to jump their bones. Unlike gay bars, lesbians bars aren't considered "hip" or "in" and are a rarity nowadays. Even in towns that are heavily populated by us gays, coming by a lesbian bar is rarely going to happen, if at all. Not to get too dark here, but we understand how it feels to think you are going to be waking up in that bed alone for the rest of your life, surrounded by your cats and maybe those kids you decided to have later in life when you realized time was running out and you couldn't wait around for your person anymore. Now that we have most definitely bummed you out, we will just as easily un-bum you out; we have the perfect solution for you: it is time to join a chat line and go a little retro with your dating.
The two chat lines we have chosen to compare today are very different from one another and will cater to a variety of needs. Below, we have broken down the differences between The System and Woman Radio.
What's The System Like?
The System caters to the entirety of the LGBTQIA+ community, not just to women looking for women. It is an inclusive, safe space for those of us who have been a part of the community for as long as we can remember, those of us who are baby gay's, and those of us who may be questioning our sexualities for the first time and want to explore those feelings further. Bullying of any sort will never be tolerated. No matter what you are looking for, you will be able to find it by dialing into the system, recording your greeting, and starting your free trial.
What's Woman Radio Like?
Woman Radio has been around since the '80s, and that is really a testament to how valued they are amongst the lesbian community. That's right; this is a chat line exclusively for women loving women. In a world that doesn't make space for us lesbians, that sure is a refreshing sentence to type. You don't have to worry about Woman Radio being out of date; they survive because they evolve with the times, always adding more features to accommodate our wants/needs. Not only is Woman Radio a chat line, but it also acts as a confessional and a personals section.
The Major Differences
Firstly, Woman Radio is exclusively for women, whereas The System is for our entire community. Secondly, although The System has a free trial, you will indeed have to pay if you choose to carry on your quest of finding the one/finding some fun. Woman Radio, however, is 100% free 100% of the time, which is so exciting because chat lines tend to force you into forking over some of that hard-earned cash. Lastly, Woman Radio has quite a few unique features that really make them stand out from the crowd. The System is more of your standard chat line.
The Verdict
Although these are both amazing chat lines and we would definitely recommend either one, Woman Radio has to take the cake. How could it not? Not only is there a confessional, where you can go when you want to get a little naughty, but you can also use the chat line to find your forever if that's more your speed these days. The fact that you are bound to find women looking for exactly what you are looking for, coupled with their stellar features and the fact that they are FREE….I mean….you quite literally have nothing to lose.
…Unless you're in a monogamous relationship. Then you better get outta here!